Brazil Cupid Review – BrazilCupid is one of the best dating sites, if you are looking for beautiful Brazilian women. The platform is easy to handle and in just a few steps you can start to meet hot Brazilian girls. We tell you in this BrazilCupid review why this dating website is one of the best on the market. Also you will find here BrazilCupid experiences made by us or other users.
Brazil Cupid Test – General information about the dating website

BrazilCupid.com is a free dating site specializing in Brazilian women. You'll find Brazilian women from around the world on this platform. No matter if you are in Brazil, USA, UK or another country on this globe, you can meet Brazilian women with this website almost everywhere. Brazil Cupid is the largest free dating site for Brazilian women out there, but is it the best? In our BrazilCupid review we found out for you!
BrazilCupid features
Brazil Cupid is very well structured and simple to use. After only a few minutes you feel very familiar with it and can start to meet nice Brazilian women. We especially like the fact that the platform is multilingual and you can use the site in English, Portuguese, German and many other languages as well.
The main menu basically consists of 5 areas. The Members Online function, the Matches function, the Search function, the Messages box as well as the option to view your own profile.
Members online: In this section you will find all the lovely ladies who are currently online. There is also a filter where you can refine your search and search by age, country, location. So you can easily find Brazilian women in US, UK, Brazil or the rest of the world. You can also even filter for cities which is really cool if you are looking for date in Brazil itself…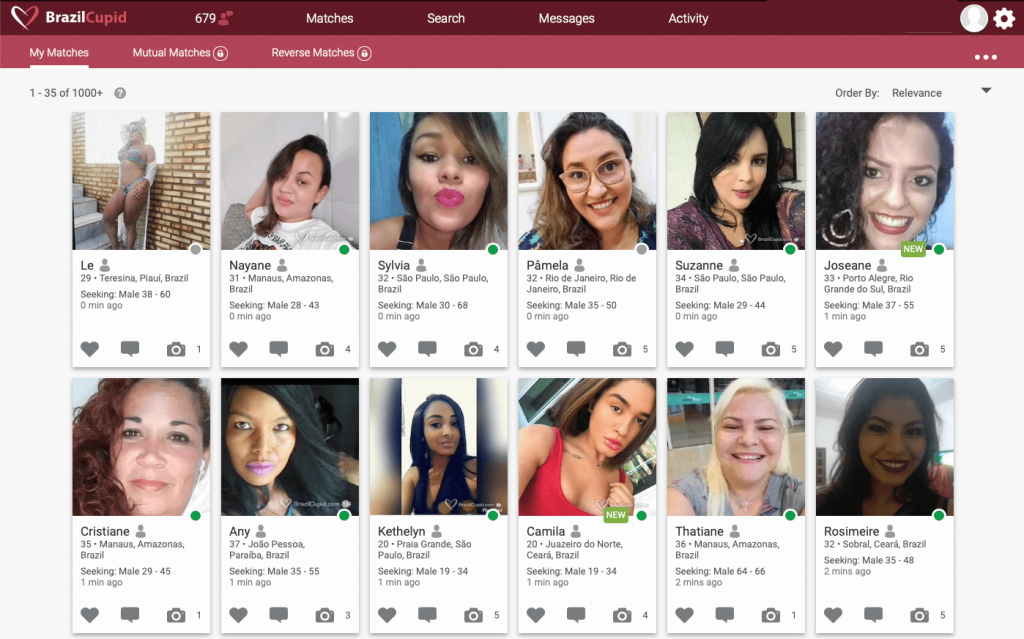 Matches: Matches shows all profiles that might suit your own profile. The more you fill in your profile and state your wishes, the better BrazilCupid can find matches for you. In the premium version, additional functions can be unlocked, such as Mutual Matches, which only displays profiles that apply to both sides. The perfect match …
Search: With the BrazilCupid search you can fill in an extremely extensive search mask, which shows you all the profiles that apply to your criteria after submission. If you like to keep it simple, you can also only search by location or age.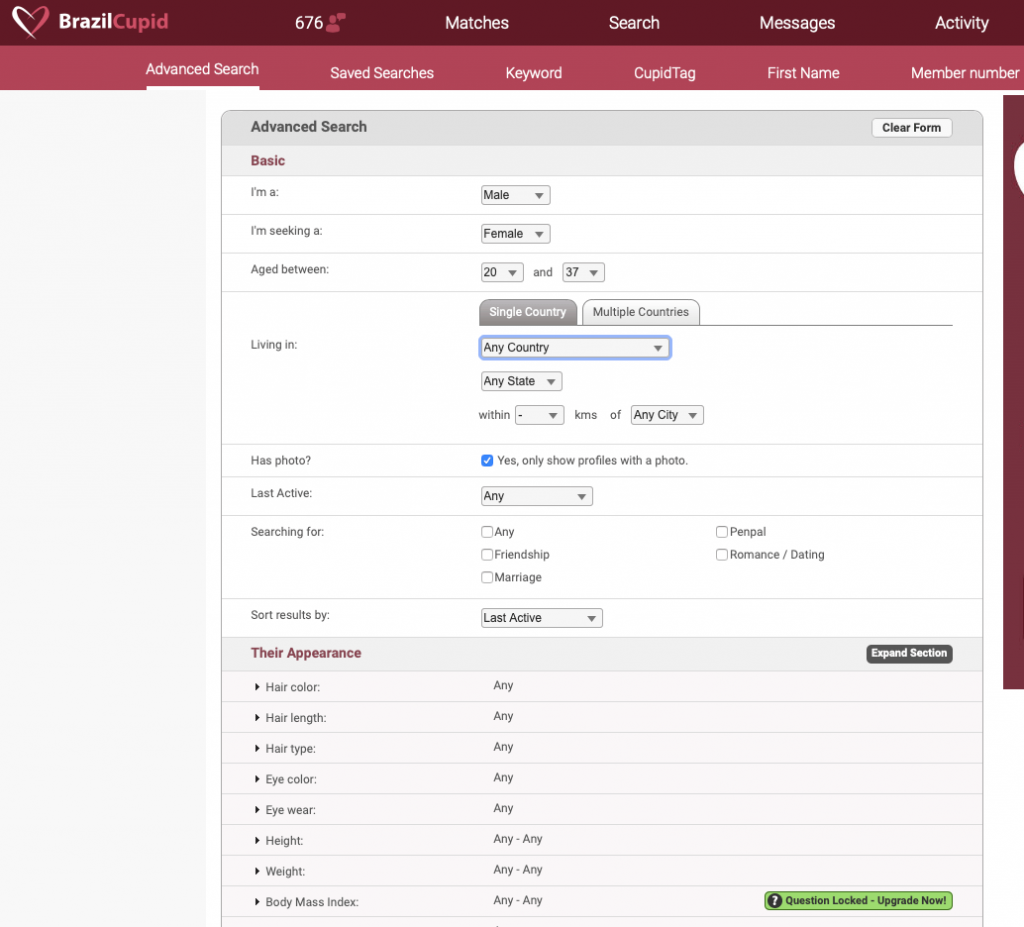 Messages: In the message box you will find all the messages you have received or sent to your contacts.
The Profiles: In the profile section you have many options and features. So you can contact the girls directly and write to them, or just hit the interest button, so that the girls are becoming aware of you. If you do not want to contact a girl immediately, there is still the possibility to save the woman among the favorites, so that you can always find her quickly later.
BrazilCupid Premium Features + Prices
If you want to enjoy the full service of BrazilCupid without restrictions and advertising, so you can not ignore a premium account. The BrazilCupid Premium account is chargeable, but it gives you many more features that are especially helpful if you need to find your girl quickly. Whether you need a premium account or not, everyone has to decide for themselves. If you use the platform a lot and want to get as many Brazilian contacts as possible the premium account is compulsory. Also if you are just looking for a one night stand it is extremely helpful to have the premium version which unlocks unlimited messages.
BrazilCupid – The prices of the premium version
In basic version BrazilCupid is free and you can sign up without any payment data. But of course there are some limitations in basic version. With the premium version, however, all functions are accessible. The good thing about BrazilCupid is that you can also pay monthly. For example, if you only need the platform during your trip to Brazil to meet Brazilian women, you can apply for the premium version for just one month. On the other hand, if you opt for 12 months, you will receive a much lower price in return. In our opinion, the gold package is worth it!
The most useful functions of the BrazilCupid premium plans are:
Unlimited messages
Instant Messenger Live-Chat
No advertising
Communication with free and paying members
Higher ranking and therefore more visibility of your own profile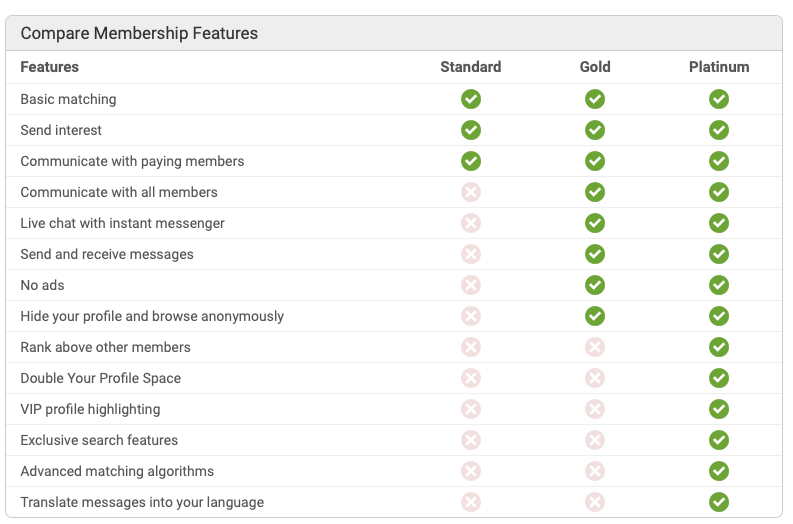 Gold
1 month: $ 34.99 (billing monthly and cancellable at any time)
3 months: $ 69.98 (billing every 3 months and cancellable at any time)
12 months: $ 139.99 (billing once, no auto-renewal)
Platinum
1 month: 39.99 $ (billing monthly and cancellable at any time)
3 months: $ 79.98 (billing every 3 months and cancellable at any time)
12 months: $ 159.99 (billing once, no auto-renewal)
Payment methods BrazilCupid: The payment for the premium account can be made classically via credit card or PayPal.
*prices may change without prior notice
BrazilCupid Database – Who is registered?
One of the most interesting questions when it comes to dating sites is always: Who is actually registered there? In a nutshell: BrazilCupid is a very secure Brazilian dating site, where only real women are registered. The only thing that could happen to you is that your date is a prostitute and demands a decent amount of money for the "meeting". But that is not so bad at all if you are looking for an experience like that!
But now back to the actual question: Who is registered at BrazilCupid? As we have already mentioned, here are many real women and almost no fake profiles registered. Most of the users coming directly from Brazil but there are also many Brazilian women who are living abroad… You will find Brazilian women who are looking for a date or a steady relationship, but also married women looking for new friends and acquaintances. Even one night stands and casual encounters are possible.
BrazilCupid also has prostitutes and freelancers registered. These girls can be found mainly in Brazil. Rio De Janeiro and Sao Paulo are the best cities to meet girls like that on BrazilCupid…
In general, however, BrazilCupid's offer consists mostly of ordinary women looking for a serious relationship or new acquaintances. Thanks to the great offer and the huge database of BrazilCupid, you should actually find your dream woman there. Anyway, we think it's good that BrazilCupid has to offer something for every taste, so every user will be happy for sure…
Chances of success with BrazilCupid
Of course there is no guarantee of success, that you will find your wife for life on BrazilCupid… Nevertheless, we believe that you have the greatest chance of success here, no matter what you are looking for. Most of the registered users are normal girls, followed freelancers. Only the time can tell if you are lucky to find what you are looking for. But there is almost one certain guarantee: everybody can get easily in touch with Brazilian women on BrazilCupid and there is something like a 100% success rate to chat with many girls from Brazil. Have a look at the stunning women which are registered at BrazilCupid…
All girls here are real registered users!
How to meet girls quickly with BrazilCupid
If you want to be as successful as possible, it is essential that you create your profile as complete and as appealing as possible. A good profile picture (best with nice clothing) makes an impression. You can also upload more pictures of you on different places. The more pictures, the better, because the women will get a quick impression of you. You will also notice very quickly that even the Brazilian girls do not hesitate to upload photos in huge amounts, which is pretty appealing for men…
It is also important that your information in the profile is as correct as possible and you are not lying. At the latest on the first date your girl will uncover your lies and fake pics and in the worst case she will say goodbye before you even had the chance to explain. Brazilians can be very direct in terms like that.
After setting up a nice and appealing profile, then simply start to contact your dream girls. Here we can not give you any great advice, just be yourself and authentic. Do not pretend anything and you will see if it works or not. Don't ask the girls right after 5 messages for a date, learn to know each other slowly.
Otherwise if you are just looking for quick sex it is not uncommon the come straightforward to business. But be aware, if she is a good girl she will definitely block you if you think that she is a hooker…
BrazilCupid experiences and our conclusion
We love Brazilian girls and accordingly the platform. The great offer has convinced us and for us personally BrazilCupid is simply the best platform to meet Brazilian women. Above all, we use the Brazilian dating platform when we are vacationing in Brazil. Here we have often been able to have great dates, but also many new friendships. In foreign countries, we also use the platform regularly. It's not all that easy to get paid sex there like in Brazil, but if you're looking for a serious date then BrazilCupid is just perfect for you. All in all, we never had any bad experiences with BrazilCupid and are still convinced that BrazilCupid is the best dating site to meet Brazilian women.
BrazilCupid Rating:
Design 7/10
Usability 8/10
Database 10/10
Price 8/10
Chances of success 8/10
Brazil Cupid Test Conclusion: BrazilCupid is the best platform if you are looking for Brazilian women. The offer is huge and the chances of success are very high. You can also use the offer for free without paying a cent. On the other hand, if you opt for the premium version, the prices are also very moderate and in our opinion perfectly fine. BrazilCupid is simply excellent!